ABOUT US
At Wilmots Childcare we tailor the care programs very carefully to meet the needs of the
different age groups. To cater for the rapidly developing need of the very young children we
provide separate fully equipped rooms, with hot and cold water, fridges, microwave bottle
warmers etc in stages of six month steps. This recognises the very different needs of children
aged between 1 and 3 years of age. This policy allows for more intimate care and a more homely
environment. It also offers far greater protection in the unlikely event of an outbreak of an
infectious disease.
PHILOSOPHY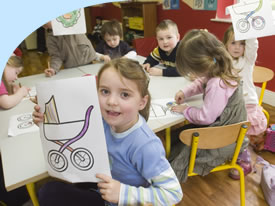 • Wilmot's Childcare is an owner managed childcare centre where the welfare, care and the development
of the child takes precedent over everything else we do. Our aim is to make this "A Happy Place" where your child can develop and grow in an environment where "Work is Play and Learning is Fun". Rosemary makes this commitment to every parent who entrusts their child to her care.
• Wilmot's aims for world class standards in every
area of its business. The concept of excellence and an environment of continuous improvement is deeply embedded in the day to day operations of the Creche. This ensures that Wilmots has a significant lead over its competitors in all areas of its business. This is confirmed by the "Excellence Through People" award.