Wilmot childcare is the leading childcare provider in the Mid West region and
was established in 2001 by Rosemary Wilmot.
At Wilmot's Childcare we make the commitment to make this "A Happy Place"
where your childs every need will be taken care of, in a very homely environment
"where work is play and learning is fun".
The curriculum we provide is based on established principles for good early year care and
development. We recognise that each child brings their own special ability to the group and we
seek to encourage recognition and acceptance for all.

>> DOWNLOAD BROCHURE (3MB, PDF)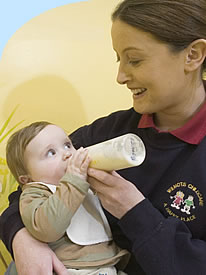 SPECIAL ACHIEVEMENTS
The only private childcare provider in Ireland to have
been awarded the prestigious
Excellence Through People Standard.


Winner of the SHELL LIVE WIRE